Featured Item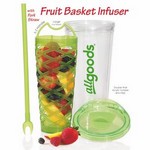 20 Oz. Fruit Basket Infuser Tumbler
Fruit Basket Infuser double wall acrylic Tumbler with fork straw. Bring out the best in your company's presentation and logo. Great for High Schools, Colleges, Cheerleading Camp, Dance Studios, Sport ...

Welcome!
Looking for promotional products? You've come to the right site. Whether you are looking for a specific item or just browsing for ideas, our site is your one-stop shopping source. From fun items to the traditional, you can easily shop for some of the hottest items on the market. Quickly and easily find products to: * Improve Traffic at Trade Shows * Brand Your Name and Logo * Motivate staff * Thank a customer * Build a Company Store * Increase safety awareness We can source unique and hard to find products. We have the availability to do direct importing from factories in China for large orders.
Holiday/CHRISTMAS Cards and Thank You Cards
Christmas and the Holidays are right around the corner. Please your order today.
Sending cards to your customers will make an impact I promise you that. We have 100's to choose from. Contact us after you preview the site for a special discount.

Tradeshow Exhibit Booths
We have EVERYTHING needed to capture the attention of tradeshow attendees. Our Tradeshow Exhibits are from an international award winning manufacturer of tradeshow exhibits. FROM simple 10' X 10' booths and pop ups to beautiful extravagant 20' X 20' works of art! Contact us for a highly competitive quote. WE CAN SAVE YOU SOME MONEY ON THESE!!
APPAREL, Sportswear, Outwear, T-shirts, Bags
We have incredible high quality apparel from basic t-shirts and high end t-shirts to polos and oxfords plus outerwear.

We offer the newest in decoration techniques to basic screenprinting and embroidery.
Signature Showrooms